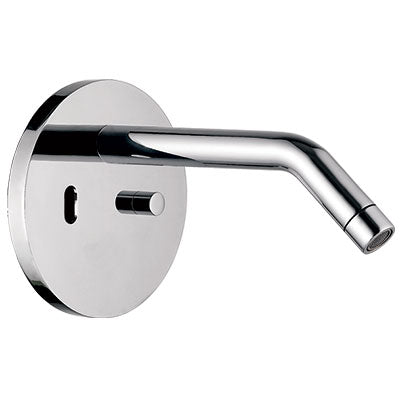 ATW-8304
Wall mounted automatic tap with front sensor and temperature control
Chrome Plated Finish

Features:
Wall mounted sensor tap
Integrated infrared sensor circular frame
With integrated manual temperature control knob
Conserve water and Hygienic
Battery-operated (DC only) 
Hands free infrared activation
Exquisite and stylish design
Solid-brass construction

Technical Details:
Diameter of 'inlet' connections (hot and cold): G1/2" male
Diameter of 'outlet' flexible pipe (inside the control box): G1/2"
Water pressure range: 0.7 (Min) - 8 Bar (Max)
Voltage (DC only): (6V Output)
Power consumption: =0.3MW
Sensing distance: 17-31cm
Respond time: 1 Second
Silent Consumption: 0.003W
Environment Temperature: 1-45 C
Flow Rate: 5L/Per minute
Pipe Threading: British Standard Whitworth (BSW)


Contents:
1x Curve-neck Tap
1x Sensor Plate
1x Control Box (*battery compartment inside)
1x Transformer (*supplied only with AC version)
1x Temperature control knob

Power Option:
DC = Direct Current (Battery source)

DC only: The tap can run off batteries only (4 x AA batteries)
We recommend using alkaline batteries, which should be new and of the same brand. 

Water Supply Feed:
This sensor tap only has a single water supply feed and it's designed to be supplied with pre-mixed water. Consideration should be given to safe hot water delivery and the use of an appropriate temperature reduction device i.e. thermostatic mixer valve.  

LIMITED WARRANTY
Autotaps Limited warrants its products (Electronic Sensor Taps) to be made of first class materials, free from defects of material or workmanship under normal use and to perform the service for which they are intended in a thoroughly reliable and efficient manner when properly installed and serviced, for a period of three years from date of purchase.

During this period, Autotaps Limited will, at its option, repair or replace any part or parts which prove to be thus defective if returned to Autotaps Limited, at customer's cost, and this shall be the sole remedy available under this warranty. No claims will be allowed for labour, transportation or other incidental costs. This warranty extends only to persons or organizations who purchased Autotaps products directly from Autotaps Limited. This warranty does not cover the life of the batteries.