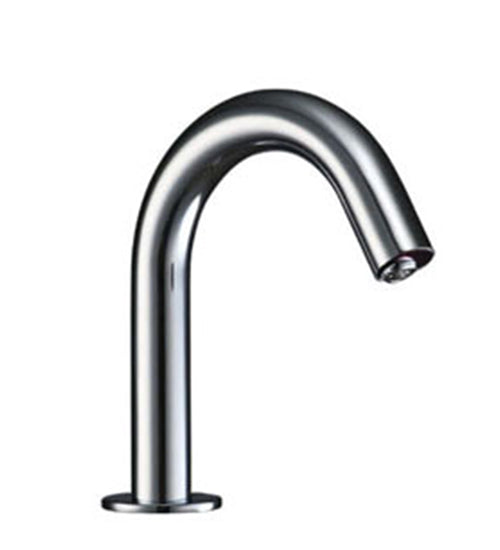 ATS-0049S Short Swan-neck design automatic tap with integrated spout sensor 
Features:
Short 'Swan' neck design sensor tap
Integrated 'hidden' sensor
Automatic distance 'sensor-to-sink' adjustment 
Single supply
Power Options: Mains/4XAA Alkaline batteries (up-to 2yr lifespan)
Hands free infrared activation
Fixed-neck design
Solid-brass outer-shell construction
1x Flexible supply hose 

Technical Details:
Control box: Diameter of 'inlet' pipe: G1/2"
Control box: Diameter of 'outlet' pipe: G1/2"
Water pressure range: 0.75 (Min) - 7 Bar (Max)
Voltage: DC6V or AC220V-240V (6V Output)
Power consumption: =0.3mW
Sensing distance: 6-24cm
Respond time: 1 Second
Battery Consumption (DC): 4xAA alkaline batteries (up-to 2yr lifespan)
Silent Consumption: 0.003mW
Environment Temperature: 1-45 C
Flow Rate: 6L/Per minute
Pipe Threading: British Standard Whitworth (BSW) 
Noise Class: 1
Finish: Chrome-plated
Voltage: DC6V or AC220V-240V (6V Output)

Contents:
1x Sensor Tap (with flexible hose attached)
1x Control Box
1x AC cable (UK plug)
1x Transformer (Built inside control box)
1x Control box 'wall-mounting' clip 
Fittings and Screws
Special Notes: 

Temperature control:
This sensor tap is designed to be supplied with cold or pre-mixed water. 
Consideration should be given to safe hot water delivery and the use of an appropriate temperature reduction device. 
Manual blending valve:
ABV-0012
Water temperature is controlled manually by hand.
Thermostatic mixer valves:
ATV-9004B
ATV-9004C
Water temperature is regulated automatically.
Frequently asked question:
Question: 
What's difference between 'ATV-9004B' and 'ATV-9004C'?

Answer: 
They're literally both the same thing, except for only one difference. 
ATV-9004B has a 'wall-mounting' brackets attached to it, while ATV-9004C has a 'female' connection end, which can be connected directly to a control box 'inlet'.
Water pressure:
Water pressure range: 0.7 (Min) - 8 Bar (Max) (1 bar or above for best performance) 

Power Options
DC = Direct Current (Battery source)
AC = Alternate Current (Mains electricity supply)

DC only: The tap can run off batteries only (4 x AA batteries)
We recommend using alkaline batteries, which should be new and of the same brand. 

AC only: The tap can run off Mains power supply only.
A 'step-down' transformer is supplied, type AC220V-240V (with 6V Output)

AC + DC: The tap can run off both AC (Mains) + DC (Batteries) connected at the same time.
This means, AC (Mains supply) will run the tap as normal, while the DC (batteries) ramains dormant, and acts as a backup power should the AC power fails.
TIP:
It's entirely up to you to decide which power option/combination suits your installation/usage the best.
The integrity of the tap stays the same.
 AC+DC Power Option: 
This sensor tap can be powered by either Mains or battery or both (This means that in case of a power cut, it will automatically switch to battery)  The control box for this sensor tap has a built-in transformer with detachable UK 3-pin AC cable. 

Water Supply Feed:
This sensor tap only has a single water supply feed and it's designed to be supplied with pre-mixed water. Consideration should be given to safe hot water delivery and the use of an appropriate temperature reduction device i.e. thermostatic mixer valve.  

Drilling a hole? 
Standard 30mm hole will suffice. 

LIMITED WARRANTY 
Autotaps Limited warrants its products (Electronic Sensor Taps) to be made of first class materials, free from defects of material or workmanship under normal use and to perform the service for which they are intended in a thoroughly reliable and efficient manner when properly installed and serviced, for a period of three years from date of purchase.

During this period, Autotaps Limited will, at its option, repair or replace any part or parts which prove to be thus defective if returned to Autotaps Limited, at customer's cost, and this shall be the sole remedy available under this warranty. No claims will be allowed for labour, transportation or other incidental costs. This warranty extends only to persons or organizations who purchased Autotaps products directly from Autotaps Limited. This warranty does not cover the life of the batteries.