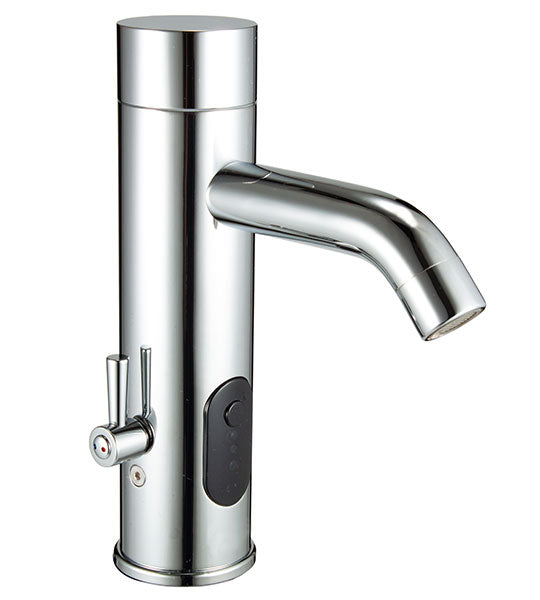 ATT-0116 Pillar design electronic sensor tap with ON/OFF water control

Features:
Pillar design sensor tap
Manual ON/OFF water control system
Manual temperature control lever 
Hygienic and up-to 70% water conservation
Independent battery holder: 4XAA Alkaline batteries
Hands free and reliable infrared activation technology
Capacitive touch sensor override control
Solid brass construction
2x flexible supply hoses
*Battery power only

Contents:
1x Sensor Tap
1x Battery Box
2x Flexible G1/2" *600mm Connection Hoses
Fittings and Screws

Technical Details:
Hottest temperature: 55°C
Coldest temperature: 25°C 
Diameter of 'inlet' flexible hoses: G1/2"
Water pressure range: 0.7 (Min) - 8 Bar (Max)
Voltage: DC6V (Battery only)
Power consumption: =0.3MW
Sensing distance: 10-31cm
Respond time: 1 Second
Battery Consumption: 4xAA alkaline batteries (2 years lifespan)
Silent Consumption: 0.003W
Environment Temperature: 1-45 C
Flow Rate: 5.7L/Per minute
Pipe Threading: British Standard Whitworth (BSW)

Note:

Gravity-fed water supply users:
You'll need at least 0.75 bar of equal pressure from hot and cold supply in order for this tap to work properly. A pressure pump/booster can be used to increase the water pressure. In summary, the pressure of 'hot' and 'cold' supply feeds must be equal for the temperature control to work efficiently.

This sensor tap can be powered by either Batteries only
This sensor tap comes with double water-supply feeds

Drilling a hole? 
Standard 35mm hole is fine

LIMITED WARRANTY
Autotaps Limited warrants its products (Electronic Sensor Taps) to be made of first class materials, free from defects of material or workmanship under normal use and to perform the service for which they are intended in a thoroughly reliable and efficient manner when properly installed and serviced, for a period of three years from date of purchase.

During this period, Autotaps Limited will, at its option, repair or replace any part or parts which prove to be thus defective if returned to Autotaps Limited, at customer's cost, and this shall be the sole remedy available under this warranty. No claims will be allowed for labour, transportation or other incidental costs. This warranty extends only to persons or organizations who purchased Autotaps products directly from Autotaps Limited. This warranty does not cover the life of the batteries.