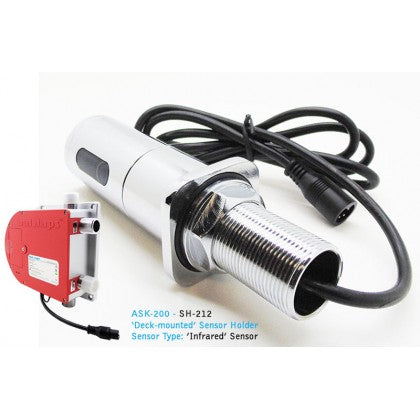 Autotaps DIY Sensor Kit 

ASK-200: with SH-212 'Deck-mounted' sensor holder 
You can buy our Autotaps sensor kit, which can be used with most manual/conventional taps.
This sensor kit is designed to convert a manual/conventional tap to a sensor tap automated 'no touch' activation.
ASK-200 DIY Sensor Kit


Technical Details:
Sensor cable length: 120cm
Sensing distance: 10-27cm (Adjustable via remote control *sold separately)
Respond time: 1 Second
Diameter of 'inlet' pipes: G1/2"
Diameter of 'outlet' pipes: G1/2"
Water pressure range: 0.75 (Min) - 8 Bar (Max)
Voltage: DC6V or AC220V-240V (6V Output)
Battery Consumption (DC): 4xAA alkaline batteries (2 years lifespan depending on level of usage)
Power consumption: =0.3MW
Silent Consumption: 0.003W
Environment Temperature: 1-45 C
Pipe Threading: British Standard Whitworth (BSW)
Contents:
With our sensor kit, you get the following parts:
1x Sensor holder (SH-212)
1x Control box
1x Wall-mounting clip
1x Transformer (built-in)
Benefits:
Easy to to implement
Affordable
Save water, save energy
Up to 70% water conservtion
Portable- Small wall-mountable infra red activation component
Flexibility- You can choose any manual tap of your choice and design
Compatible with most conventional taps
AC/DC Powered

Easy installation and implementation
Dual solenoid valves (hot and cold connections) 
Solid-built design
Solenoid valve with high 'hot water' tolerance
Ultrasonic-sealed built-in transformer
LED light power indicator
Wall-mountable optional bracket 
Works under low water pressure
IP54 Protection
Splash-proof inner-ridge rubber seals
Inner rubber seal for higher protection from elements 
Independent battery compartment 
Durable and light outer-shell material construction 
Compatible with SR6 Sensor Remote Control (*Sold separately)
Tips:
Your choice of manual tap can be any tap with hot and cold supplies.
This sensor kit can be powered by either Mains (AC) or Batteries (DC) or both
The control box for this sensor kit has a built-in transformer with detachable AC plug (UK '3-pin' type)

Note:
This sensor kit is designed for taps only and it's not waterproof. Warranty void if used for any other installation purposes/applications other than for taps.