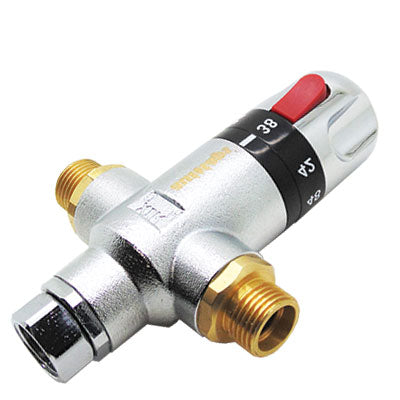 Autotaps Thermostatic Mixing Valve (With 1/2" female 'outlet' connection)
A Thermostatic Mixing Valve is a device that mix or blends hot water (usually stored at temperatures high enough to kill bacteria) with cold water to ensure constant, safe outlet temperatures preventing scalding.
Autotaps thermostatic water valve When you buy any automatic tap with 'single' supply, there's a chance you will need a thermostatic control to regulate hot and cold water supply.
Autotaps ATV-9004C has a thermostat built-in which maintains temperature by adjusting the flow of each hot and cold supply. When water begins to get colder, the thermostatic valve will automatically reduce the flow of cold water to compensate. This is particularly useful in guarding against the possibility of scalding injuries.
Technical Parameters:
Default factory temperature setting: 38º
Maximum temperature: 85º
Water pressure: 1-5 Bar
Maximum water pressure: 8 Bar
Dia. of Inlet pipes: G 1/2"
Weight: 0.5kg
Height: 138.5mm
Inlets: 1/2 Inch (Male)
Outlet: 1/2 Inch (Female)

LIMITED WARRANTY
Autotaps Limited warrants its products (Electronic Sensor Taps & Thermostats) to be made of first class materials, free from defects of material or workmanship under normal use and to perform the service for which they are intended in a thoroughly reliable and efficient manner when properly installed and serviced, for a period of three years from date of purchase.

During this period, Autotaps Limited will, at its option, repair or replace any part or parts which prove to be thus defective if returned to Autotaps Limited, at customer's cost, and this shall be the sole remedy available under this warranty. No claims will be allowed for labour, transportation or other incidental costs. This warranty extends only to persons or organizations who purchased Autotaps products directly from Autotaps Limited. This warranty does not cover the life of the batteries.