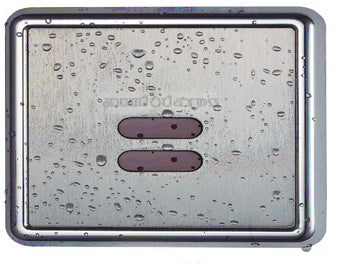 Autotaps™ Sensor Shower | ATSH-2062


Sensor shower kit plate only (Shower head or temperature mixer not included)
Retro-fit installation
Technical Details:

Diameter of 'inlet' pipe: G1/2"
Diameter of 'inlet' pipe: G1/2"
Water pressure range: 0.7 (Min) - 8 Bar (Max)
Voltage: AC/DC6V
Power consumption: =0.3MW
Sensing distance: 27-31cm
Respond time: 1 Second
Electricity Consumption: 4x AA alkaline batteries (2 years)
Silent Consumption: 0.003W
Environment Temperature: 1-45 C
Contents:

1x Sensor Shower Plate
1x Control Box (*battery compartment inside)
4x AA Alkaline Batteries (*Subject to availability: Batteries are supplied only if we have them in stock)
1x Transformer
Fittings and Screws
LIMITED WARRANTY

Autotaps Limited warrants its products (Electronic Sensor Taps & Sensor Showers) to be made of first class materials, free from defects of material or workmanship under normal use and to perform the service for which they are intended in a thoroughly reliable and efficient manner when properly installed and serviced, for a period of three years from date of purchase.
During this period, Autotaps Limited will, at its option, repair or replace any part or parts which prove to be thus defective if returned to Autotaps Limited, at customer's cost, and this shall be the sole remedy available under this warranty. No claims will be allowed for labour, transportation or other incidental costs. This warranty extends only to persons or organizations who purchased Autotaps products directly from Autotaps Limited. This warranty does not cover the life of the batteries.