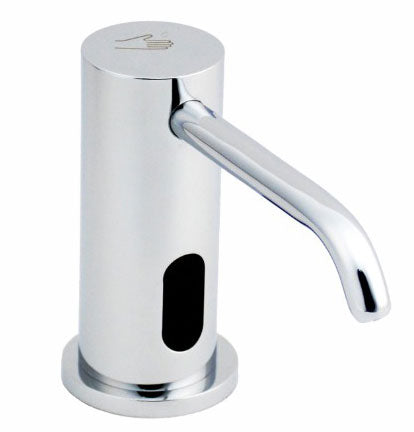 ASD-1071 

Features:
Deck-mounted automatic soap dispenser
Hands-free activation
Solid-brass outer shell construction
Exquisite and stylish design
Easy to install
Quick Refill
AC (Mains) only
Voltage: AC220V-240V (6V Output)
Finish: Chrome-plated

Under-mount (Below Deck) Reservoir 
Exquisite and stylish 'tubular' design
Quick Refill
Solid Construction
Finish: Chrome-plated                                                                                                        Mains Power Only (AC only)

LIMITED WARRANTY

Autotaps Limited warrants its products (Electronic Sensor Taps) to be made of first class materials, free from defects of material or workmanship under normal use and to perform the service for which they are intended in a thoroughly reliable and efficient manner when properly installed and serviced, for a period of One Year (1 year) from date of purchase.

During this period, Autotaps Limited will, at its option, repair or replace any part or parts which prove to be thus defective if returned to Autotaps Limited, at customer's cost, and this shall be the sole remedy available under this warranty. No claims will be allowed for labour, transportation or other incidental costs. This warranty extends only to persons or organizations who purchased Autotaps products directly from Autotaps Limited. This warranty does not cover the life of the batteries.