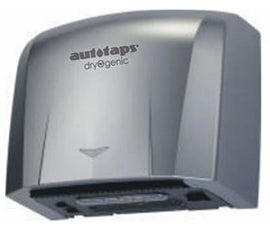 AHD-2013S - Silver Automatic 'DryOGenic' Super Fast Hand Dryer 

Description:
Autotaps™ new 'DryOGenic' automatic fast had-dryer design for domestic and commercial applications.
This new designs features super fast '7-12 seconds' drying time by use of super-powered JetAir wind.

It uses 1,250W low noise motor that offers more quiet bathroom use. Wall-mountable for convenience that suits any washroom design spec.


Technical Details:

| | |
| --- | --- |
| Product Name | AHD-2013S |
| Colour | Silver |
| Product Description | Ultra High-speed 'DryOGenic' JetAir Hand Dryer |
| Voltage | AC 110V/220V~240V, 50/60Hz |
| Rated Power Consumption | 1,250(W) |
| Product dimension | 282*174*240mm |
| Sensing Distance | 12±3cm (adjustable) |
| Wind velocity | 90(m/sec) |
| Drying time | 7-12 Seconds |
| Safety device | Thermal fuse, Overcurrent Fuse |
| Weight | AHD2013S: |
Contents:
1x Automatic 'Wall-mounted' Hand Dryer
Fittings and Clips
1x Wall-mounting plate
1x AC 'UK 3-Pin' Wire/plug (Attached)

Features:
※ Power: AC 110V/220V~240V, 50/60Hz
※ Power Capacity: 1250W
※ Sensing Distance: 12±3cm (adjustable)
※ Working Time Limit per Operation: ≤50seconds
※ Heat Air: 35-50℃
※ Wind Speed: 90M/S
※ Motor Speed: 24000RPM
※ Automatic Temperature Protection: 85℃
※ Drying time: 7-12seconds
※ Waterproof Grade: IPX1
※ Dimension: 282*174*240mm
※ Weight of Product: 5.825kgs
※ Colour: White
※ Carton Dimension:57*31*44cm
※ Packing: 16Kgs/Carton(4Pcs)
※ Steamline Design
※ Paper-free washroom
※ Safe money on washroom running cost
Detailed Features:

Energy Conservation: 
Uses all-in-one high speed motor with power capacity of 1250W in total, with motor power (450W) and heating power (800W);
Strong/Soft Wind Velocity switch: 
Strong wind velocity for quick-drying of hands at only 70dB
Soft wind velocity with its lowest noise range at 60dB
Hot/Cold Wind Switch:
Energy-saving for Winter & Summer settings.
Elongated Wind Outlet:
Elongated to 195mm wind outlet. Special wide designs for users to dry hands comfortably, even for arms.
PTC Heater: 
Safer & more efficient for all users.
HEPA (High Efficiency Particulate Air): 
Purer air filtration with HEPA filter.


LIMITED WARRANTY
Autotaps Limited warrants its products (Electronic Sensor Taps) to be made of first class materials, free from defects of material or workmanship under normal use and to perform the service for which they are intended in a thoroughly reliable and efficient manner when properly installed and serviced, for a period of three years from date of purchase.

During this period, Autotaps Limited will, at its option, repair or replace any part or parts which prove to be thus defective if returned to Autotaps Limited, at customer's cost, and this shall be the sole remedy available under this warranty. No claims will be allowed for labour, transportation or other incidental costs. This warranty extends only to persons or organizations who purchased Autotaps products directly from Autotaps Limited. This warranty does not cover the life of the batteries.