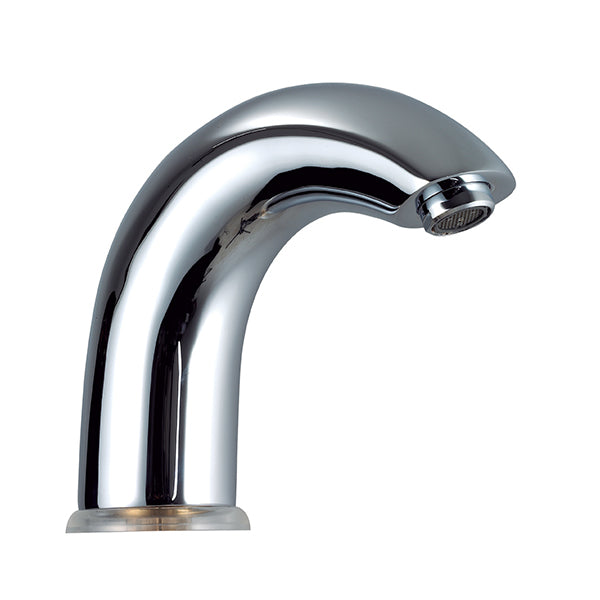 Autotaps 360⁰ Surround Induction Technology
Sensor tap with surround inductive activation
Introducing Autotaps SST Series, with its 360⁰ Surround Inductive Sensor Technology. This latest innovation uses 360⁰ inductive sensor, which activates the tap as soon as hands come within a few inches above, below, or along the sides of the spout. The entire body of the tap is inductively active, and users are capable of activating the tap from any angles.

Autotaps SST uses inductive sensors instead of an infrared beam to detect the presence of hands or objects. It is powered by standard alkaline batteries that are easily installed beneath the sink along with its sensor control box. The battery-power is capable of lasting up to 100,000 cycles/activations.

The inductive sensor eliminates the frustration of searching for the 'infrared range' to get the valve activated. It provides greater user satisfaction, and suitable for restrooms, public or commercial applications.
Features:
Curve-neck design sensor tap
360⁰ Surround Inductive Sensor
Solid brass construction design
Finish: Chrome-plated
Single supply
Power: Mains/4XAA Alkaline batteries (up-to 2yr lifespan)
Hands free Surround Inductive Sensor Activation
Flexible supply hose
Water pressure required: 0.75-7 Bar (1 bar or above for best performance)

Note:
This is a single-supply sensor tap, to regulate/mix hot and cold water together, a thermostatic mixer or a blending valve will be required.
Technical Information:
Control box: Diameter of 'inlet' pipe: G1/2"
Control box: Diameter of 'outlet' pipe: G1/2"

Water Consumption: 0.05Mpa – 0.6Mpa
Power: Battery only (DC6V: 4x AA Alkaline Batteries)
Battery Lifespan: 100,000 Cycles
Static Power Consumption: 0.36mW
Working Power Consumption: 0.5mW
Proximity Range: 0-50mm around the tap
Motor Valve Lifespan: 500,000 Cycles
Induction Response Time: <1 Second
Induction Closing Time: <2 Seconds
Flux: ≥0.07 L/S
Temperature: 0.1-50⁰ /C
Diameter Hole for Worktop: Ø33-35mm
Pipe Threading: British Standard Whitworth (BSW)
Finish: Chrome-plated
LIMITED WARRANTY

Autotaps Limited warrants its products (Electronic Sensor Taps) to be made of first class materials, free from defects of material or workmanship under normal use and to perform the service for which they are intended in a thoroughly reliable and efficient manner when properly installed and serviced, for a period of one year (1 year) from date of purchase.

During this period, Autotaps Limited will, at its option, repair or replace any part or parts which prove to be thus defective if returned to Autotaps Limited, at customer's cost, and this shall be the sole remedy available under this warranty. No claims will be allowed for labour, transportation or other incidental costs. This warranty extends only to persons or organizations who purchased Autotaps products directly from Autotaps Limited. This warranty does not cover the life of the batteries.