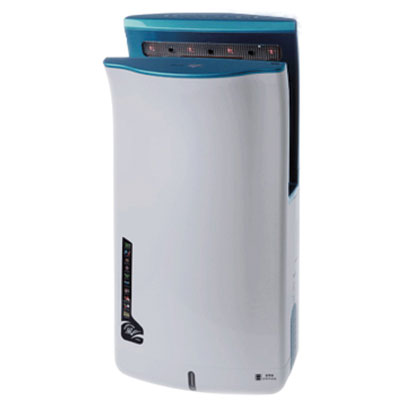 AHD-2000 Automatic 'Super Fast' Hand Dryer 

Description:
Autotaps™ new automatic fast had-dryer designs for domestic or commercial application.
This new designs features super fast '7 seconds' drying time by use of super-powered JetAir wind.

It uses 1,200W 6-phased low noise motor that offers more quiet bathroom use. Wall-mountable for convenience and blue LED lights that suits any washroom design spec.


Technical Details:

| | |
| --- | --- |
| Product Name | AHD2000 |
| Product Description | Ultra high-speed JetAir Hand Dryer |
| Voltage | AC110V 60Hz, 230V 50Hz |
| Rated Power Consumption | 1,300(W) |
| Product dimension | BWD2000: 300(W) x 669(H) x 234(D)mm |
| Drain water tank capacity | 1,100ml |
| Wind velocity | 160(m/sec) |
| Drying time | 7 seconds (Adjustable in 6 phases) |
| Safety device | Thermal fuse, Bimetal S/W, Overcurrent Fuse |
| Weight | AHD2000: 10kg |
Contents:
1x Automatic 'Wall-mounted' Hand Dryer
Fittings and Clips
1x Wall-mounting plate
1x AC 'UK 3-Pin' Wire/plug (Attached)

Features:
Rated Power Consumption: 1,300W
Life span: 1,000,000 times
Noise: Under 65dB
Case: Fire-proof ABS resin
Sensor: 3 infrared-rays sensors
Filters: Triple noise absorption filters
Speed adjustable: 7 seconds (6 phases)
Operation display LED lamp
UV lamp
Self-diagnosis
Anti-splash Design
Low running cost (£0.0003 per time)
Quick drying (±7 seconds)
Steamline design
Paper-free washroom
Safe money on washroom running cost
Detailed Features:
Low-noise Motor
1,200W 6-phased high speed low-noise motor that offers more quiet washroom usage.
Blue LED Light
Soft and warm blue LED lights illumination that matches any washroom design.
Triple-layer HEPA filter/odour removal
Using HEPA filter, which filters and allow the flow of fresh air and prevents odour in the bathroom
Anti-splash Design
Anti-splash design in a diagonal direction, which
directs jet of of wind to face downwards, which prevents water splashing
Light · Operation Display Lamp
The display panel shows the preset operating and working status
Self-diagnostic Technology
It features self-diagnostic checks on receiver and inform the user
Antibacterial Resin
Sanitary antibacterial resin that prevents germs and bacteria build-up
Triple-safety Design
It has a very safe design in case of temperature fuse, overcurrent fuse protection, Bimetal

Filter exchange Indicator
Filter exchange indicator to let you know when to replace filter.
LIMITED WARRANTY
Autotaps Limited warrants its products (Electronic Sensor Taps) to be made of first class materials, free from defects of material or workmanship under normal use and to perform the service for which they are intended in a thoroughly reliable and efficient manner when properly installed and serviced, for a period of three years from date of purchase.

During this period, Autotaps Limited will, at its option, repair or replace any part or parts which prove to be thus defective if returned to Autotaps Limited, at customer's cost, and this shall be the sole remedy available under this warranty. No claims will be allowed for labour, transportation or other incidental costs. This warranty extends only to persons or organizations who purchased Autotaps products directly from Autotaps Limited. This warranty does not cover the life of the batteries.